Venue moved to Crystal Palace
The adult parties venue in east London has closed and moved to a superb new venue in Crystal Palace. The new venue is extremely popular with people who enjoy a friendly atmosphere.
On Friday and Saturday nights you will find swinger couples and singles of both sexes intermingling.
London's best adult parties are held at the new venue
This large and lavishly furbished adult parties venue has relocated from the London E9 area to the SE19 area. It is conveniently situated for the M23, A23 and public transport by rail and bus.
Eight adult party play areas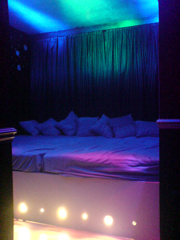 The old venue offered an amazing, eight adult party play areas to enjoy.
These included open play areas, closed rooms with viewing window, and private rooms for couples looking for more intimate, selective adult party fun with and invited couples/singles only. Special features include a grope box, glory hole, a fourteen foot group play mattress and a newly equipped dungeon.
Discounts on adult party fees
Did you know that our premium members receive discounts on adult party entrance fees at most of our listed venues?
Membership also provides a great opportunity to meet the regulars who attend London adult parties, you can use it to chat with other like minded adult contacts from all over the country.
Sign up with the adult party place online now
You will also find:
Many other 'members-only' parties, singles seeking singles, singles seeking couples, couples looking for couples, couples looking for singles, plus hundreds of adult sex party groups in every location