Five Bedroom House for Swinging Adult Parties
This beautiful private residence in the Ventnor area of the Isle of Wight makes a fabulously attractive venue for swinging, adult parties.
Scenic location close to Ventnor
The venue is located amidst idyllic rural scenery on the edge of a village, close to Ventnor, Isle of Wight. It enjoys seclusion and privacy, making it an ideal for holding discreet adult parties.
There is ample parking within the grounds for at least 15 cars. When this is full, further car parking can be found in safe on-road spots throughout the village but guests are urged to park sensibly and to avoid any actions that might antagonise local residents.
Rooms
This is a spacious venue, with all rooms being large enough to facilitate well attended adult parties. Downstairs, the kitchen is an impressive design with plenty of room to enjoy buffets, drinks and flirtatious socializing.
The lounge and dining rooms are joined with open plan access. Both rooms are extremely relaxing places to mingle, enjoy drinks, conversations and even dancing.
There are four large en-suite bedrooms available for private and group adult fun.
Why not turn a party into a swinging holiday on the Isle of Wight? Click here to discover things to see and do and where to stay on the island.
Facilities
The venue does not currently have a dungeon or Jacuzzi at the moment but plans have been drawn up to include both of these facilities in the future.
Guests can be assured that their personal belongings will be safely locked away if requested.
Overnight accommodation may sometimes be available for swinger couples. Interested guests should contact us with a request for overnight stay soon after receiving their invitation but not before.
Swinger Couples Mainly
Most of the adult parties at this venue are for swinger couples and single females but very occasionally singles are also invited. This will depend upon the numbers attending any given party and whether a significant proportion of the couples attending are interested in playing with unaccompanied, single males. We would advise interested single males to read: "How single men can go to adult parties where as many women as men participate."
Hosting Arrangements
The adult parties are hosted by the owners of the property. They are an experienced swinger couple in their mid-forties. You will find them to be very friendly and welcoming, sensitive to the needs of everyone and adept at laying on sensational adult parties that really swing.
As well as their love of party-hosting, they regularly enjoy swinger holidays in lifestyle resorts in the Caribbean and have just booked a "Bliss Cruise", which is an adult-only, clothing-optional, full ship charter for broad-minded people.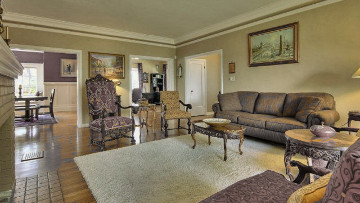 Activities
The hosts are very fond of playing sex-games and given the chance, they will introduce some at their parties. However, nobody needs to feel under any obligation to join in if they do not wish to.
Guest selection requirements
The adult parties at this venue are aimed mainly at swinger couples (see above). They cater for a broad age range but more mature and more experienced swingers are given priority over inexperienced swingers in the invitation process which is by selection. Please note that the hosts may sometimes request photographs are sent to them.
Fees
A contribution towards the cost of buffet, soft drinks and general property upkeep of £40 is usually expected.